It's the 21st century.  Gone are the days of receiving a fax to sign a contract or drive across town fighting traffic just for a signature.  I am your Paperless REALTOR and I will walk you through the steps to easily and conveniently sign all your documents electronically!
Using ZipForms, sign your documents electronically with the click of a button.  It's safe, secure and legal.  From an initial offer to final signatures on a contract to a simple amendment, you can sign everything you need to electronically and keep your vital documents on your own computer.
All you have to do is show up for closing!
The following information was taken from: http://zipform.com/digitalink/index.asp.  Visit this site for more information.



Real estate professionals know time is money and every minute spent waiting for a signature can cost valuable revenue. zipLogix Digital Ink® is the digital signature solution designed specifically for the real estate professional.
Digital signatures revolutionize the customer experience, offering clients a truly secure paperless electronic process that can be trusted. Today's tech savvy consumers prefer not having to drive to your location or print and fax documents. The automated and straight-forward process enabled by digital signatures creates the competitive advantage to stand out in today's market.

zipLogix Digital Ink ensures that all of the document's data and the digital signature are protected throughout the entire "signed, sealed and delivered" online process. Digital signatures permanently secure the identity of signers and the document's content. Once the document has been signed, its integrity is permanently protected. Any attempt at changing the data or tampering with the signatures automatically and visibly invalidates the document.
Digital Signature Blog from SIGNiX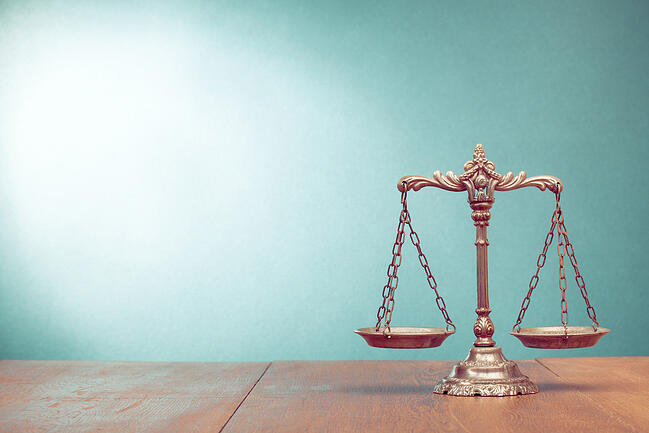 The legal issues surrounding e-signatures can be pretty confusing. Sure, digital signatures are secure, but how do you know that they'll hold up in court? Luckily, you don't have to figure it out on your own. Seventy lawyers from the American Bar Association (ABA) spent four years developing the
ABA's Digital Signature Guidelines
. We took the ABA's recommendations to heart by implementing these key guidelines in our products. Whenever you do business online, it's important to know who you're doing business with. When it comes to digital signatures, that means using a process called "authentication." Signers can prove their identity by confirming their username and password, their date of birth and social security number or even by entering a secret code sent to their cell phone.  Here at SIGNiX, we provide a lot of authentication options that can be easily customized by the person creating a document. Each signer can be authenticated using a different method, depending on the level of risk of the transaction.
2. There Must Be Disclosure and Consent
For a digital signature to be considered legal, you have to prove the signers knew they were signing a legal document. This is done through legal disclosure and consent, which signers must approve before they are able to sign the document. SIGNiX provides basic legal disclosure and consent language to meet legal requirements. Depending on your corporate policies or your industry, you might need to customize the consent language. This can be easily done when you set up your MyDoX or EnterpriseDoX account. 
3. The Signer Must Know the Signature is Legally Binding
Digitally signed documents are just as legally binding as signatures on paper, and it's important that every signer is aware of the legal impact of signing online. Our signature process can be customized and includes the standard language "I am SIGNER'S NAME, and I agree to be legally bound by this digital signature." We can also implement a two-step process where the signer acknowledges the legality of the transaction and then clicks "sign." 
4. The Document Must Be Secure from Tampering
When documents are executed in a digital world, there is always a risk for hacking or document tampering. But with the right kind of technology, digitally signed documents can be even more secure against tampering than their paper counterpoint.  At SIGNiX, our products incorporate technologies that make it virtually impossible for document tampering to go undetected. When your documents are signed with SIGNiX, they're protected with a tamper-evident seal. If anyone tries to change any part of your document, you'll easily be able to see that tampering took place. 
5. All Signers Should Have Access to the Document
This one is simple. Everyone who signed the document should get a copy of the completed document. At SIGNiX, we provide permanent online access to documents from any computer for all of the signers and those who have review rights for the document. Or if you'd rather, we can provide an independently verifiable version of the document for you to store on your own computer or server.
6. All Actions Taken Should Be Documented
Everything listed in this article is important, and all of it should be logged by your digital signature vendor. If your documents are ever challenged in court, you'll want as much legal evidence as possible to back up your documents.  SIGNiX maintains a detailed log of events (called an audit trail) of every action taken on a document. Every time a signer signs, initials or in any other way changes a document, those changes are automatically logged.  
---
If you've been given a document that has been digitally signed, you might wonder how you can find out if it has been tampered with. While the signatures may look the same no matter what, there's a lot going on under the hood that you need to be aware of before you accept a digitally signed document.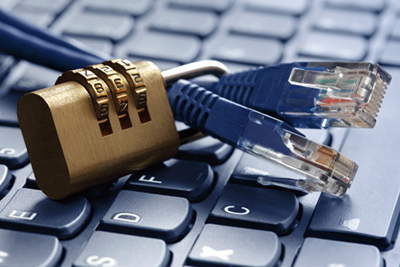 Going from Paper to Electronic
When you receive a traditional signed document, what are you usually looking for? First, you may check if it was signed at all. Then, you're probably looking for the right person's name. You might also check to see that the document was filled out correctly and that there are no obvious changes to the document. Putting all of this together can be a time-consuming process, but it's also a well-understood process.
When you receive a digitally signed document, you can still look for these items, but digital signature software also gives you tools to better understand the document. Digital signature evidence can include information about the signing process, whether the document changed and much more. But of course, you have to know what to look for.
Rely on the PDF
Here at SIGNiX, we produce digitally signed PDF documents. The PDF file format is well-known and is an international standard (ISO 32000-1). We chose to use the PDF format because it is the most mature platform that supports digital signatures. The PDF first supported digital signatures way back in 1999. Since then there have been a lot of powerful new functions added that we take full advantage of.
When you receive a digitally signed document, first be sure you're looking at a PDF file on your computer or mobile device, not a paper copy. While a paper copy can be useful as a reference, the PDF file has many features and functions to give you even more evidence. If you've been given a paper copy and asked to trust it, be sure to ask for the electronic version and look for all of the elements described below.
To open the PDF, we recommend you use a standards-compliant PDF viewer like the free Adobe Reader (downloadable here). Adobe Reader on Windows or Mac OS X provides the best experience when it comes to viewing digitally signed documents.
You can also use the free PDF viewer applications from Nitro and Fox-It, though some of the icons may look different than what we're presenting here. If you're using a mobile device, we strongly recommend that you use the free Adobe Reader app available on the App Store or the Google Play store.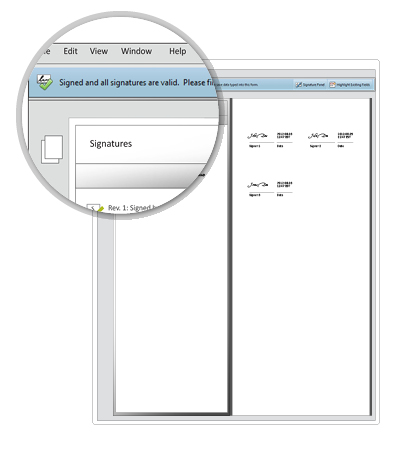 Trust the Green Checkmark
Now that you're looking at a PDF file, what's next? If you've opened the file with the free Adobe Reader software, look for the green checkmark at the top of the screen.
This immediately lets you know that nothing has changed since the last signature was applied to the document. (NOTE: This icon will look different in other PDF viewers and is not available on mobile devices as of September 2013.)
When should you be concerned? When you see any of the following icons:
Yellow Exclaimation Point

This icon lets you know that something may have changed after the last signature was applied. Perhaps the change was intentional, but the software is making sure you're on alert.

If you click the pen icon on the left side, you will see an in-document change tracker showing you each of the signatures applied, and in this case, changes made after the last signature.

Magnifying Glass

This icon lets you know that something was just changed in the document you are looking at. You will need to validate the signatures for Adobe Reader to let you know what changed.

To validate the signatures, simply click the pen icon and then the "Validate All" button. The icon should then change.

Red X

If you see the red X, you should not trust the document. This means that substantial changes have been made to the document that have compromised the integrity of the original PDF. Get in touch with the organization or individual that sent you the document and ask for an original.
What Should the Signature Look Like?
A digitally signed document might have one signature or twenty. What do you need to look for in the signatures themselves?
Digital signatures can look very different. Here at SIGNiX, signers can choose from one of several signature fonts or they can use their finger or a stylus to draw their signature on a tablet device.
These signatures aren't just pictures of a signature with a link to some third party website. Each of our signatures and initials creates a tamper-evident seal on the document and embeds critical information about the signature into the document itself. If you're viewing a digitally signed document in Adobe Reader or another PDF viewer on Windows or Mac, you can click on each signature to view this information. Here are some highlights.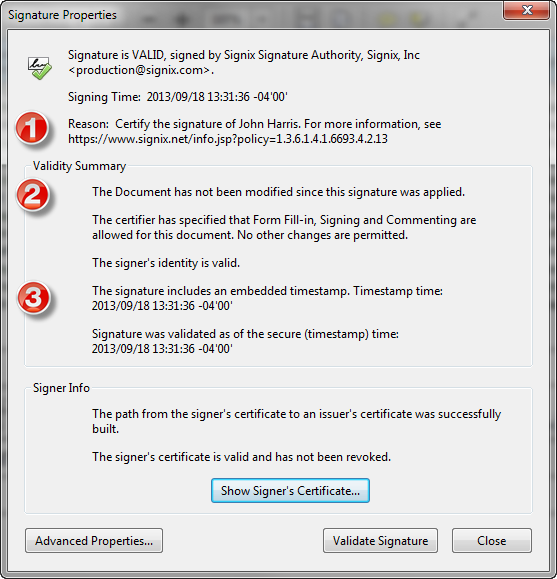 1) Reason Code should include name of signer.
2) Has the document been tampered with?
3) Embedded time stamp should show time of actual signature.
Get Even More Evidence with Signature History™
On top of creating embedded signatures, we also embed a history of the document with each signature—we call this the Signature History™. With this feature, you can easily show what the document looked like when each signer signed the document. This is especially useful in multiple signature and party workflows where one signer may question the content of a document at the time of signature. The Signature History is available within the document, even if you're offline.
If you have received a document with more than one signature, you can take a look at the embedded Signature History within compliant PDF viewers on Windows and Mac computers. Follow these steps:
1) Right-click (command+click) on the signature, and choose "View Signed Version."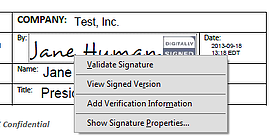 3) The PDF viewer will create a new window displaying what the document looked like when that signer signed the document.
What to Look for in an Audit Trail
Now that you understand what you need to be looking for with the digitally signed document, be sure that you also are able to view or access a copy of the audit trail or event history behind the transaction. We recommend that signers download not only the PDF versions of their signed documents but also the PDF version of the audit trail.
This audit trail traces every single event from the initiation of the transaction to its final steps. It captures key legal points, including transaction start, email delivery, site entry, consent, authentication result, document presentation, each signature or initial, agree/acknowledge tasks, transaction end, document presentation post-transaction and many other events. The audit trail also stores all opt out and comment activity.